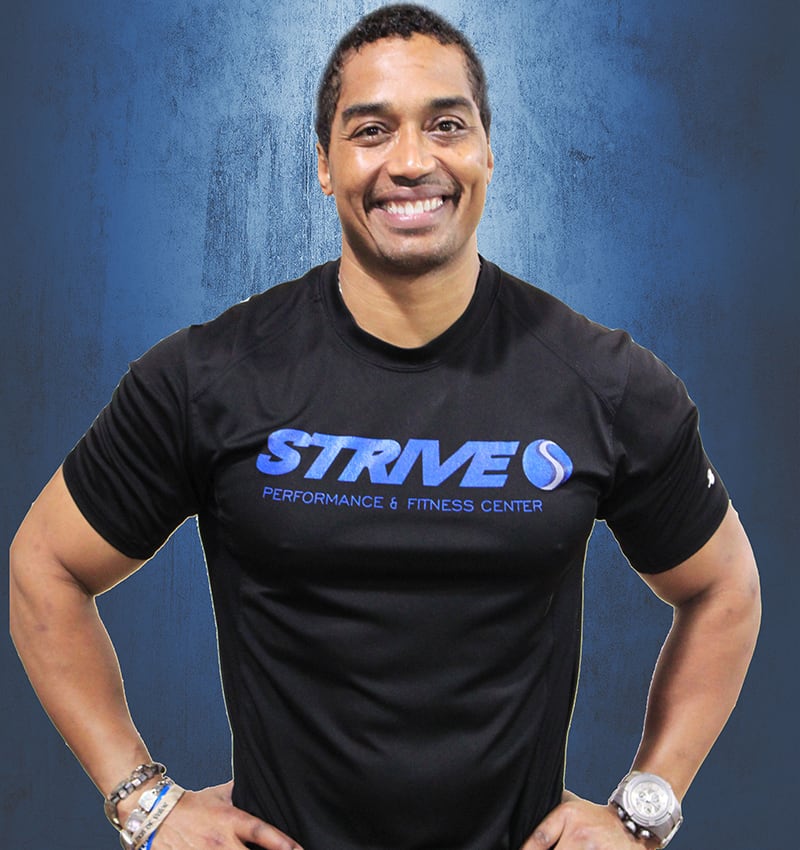 Jamie Christmas
Hi, I'm Jamie Christmas.
Most days you can find me at the gym or grocery shopping. My usual grazing happens at FreshMarket. I'm mostly known for crazy workouts and quoting movies. People often refer to me as Superman, and I have plenty of shirts to prove it. I love serving the world by motivating, encouraging and listening to others. The things I am most passionate about in life are health, family, and being spiritual.
My experience in training comes from a background of Athletics: I played tailback in football, and was a track and field sprinter. While I was doing that, I got my Degree in Marketing from the University of Virginia. Aside from athletics, I competed in the Physique division for Bodybuilding where I was honored by World National Bodybuilding Federation, and qualified for Mr. Universe. Since then, I've trained for 31 years, and have 13 training organization certifications. I've coached D1 athletes in football, baseball, boxing, and soccer.
Though my focus is athletics, but I love to train people who I can get to know and hold accountable – regardless of any athletic background. I coach people who need help with self-esteem and leaving their comfort zone – especially those who struggle with accountability and wish they could feel like they've achieved something when they come in. I am lucky to inspire them to think outside the box when it comes to life, and not defeat themselves or stand in their own way. As a trainer, I've been spotlighted on Fox News, and showcased as a model.
My favorite way of impacting others is through my church. I hosted bootcamps that mentored over 80 local kids who needed help and guidance with behavior and self-esteem. All the kids were considered at risk at home and school. To me, mentoring and the impact that has on our young people's lives is the absolute most important thing.
When I'm not coaching, writing programs, or finishing up another certification, you can catch me reading Pat Cornwell or James Patterson, playing brain games like "The Moron Test," Hiking at Hanging Rock, or Bowling (my average is pretty good, just saying). Besides that, I love Charlottesville, VA. It's where I grew up and I try to get home when I can.
My advice to the non-fitness world: Aim for small goals, stay consistent, leave bad days behind you and keep moving forward.
If you're dying to hear more, here are five things you might not know about me:
1. Some of my favorite movies are Smokey and the Bandit, Breaking, and Horrible Bosses
2. I can be a nerd and I love corny quotes
3. My first big push into fitness was in the 9th grade when I was the runt of my class, and I couldn't even lift 80lbs!
4. I model on the side
5. I'm absolutely terrified of snakes